A gutter machine can improve the value of your home
If you are looking to sell your home in the near future or just want to spruce up your most valuable investment so that it looks its best, there are many home improvement projects that you can take on. While there are many things you can do around your home by yourself, like painting or gardening, it is highly recommended that you contact and hire a professional if you need to Google the difference between a Phillips and flat head screwdriver or if a project seems to be outside the realm of what you are able to do easily and safely.
One project that you should probably not do by yourself, regardless of how handy you believe you are, is replacing the gutters. Gutters are important because they help direct precipitation away from the home. This makes it less likely for leaks to occur in your roof. Prior to the 1970s, most gutters were made from wood. Today, gutters are most commonly made of either aluminum or copper and the most popular sizes are five or six inches wide. The most popular style of gutters is called the K style. It resembles the crown molding in your house. Most gutters are white, however if you are willing to spend more money, you can get gutters in other colors, as well.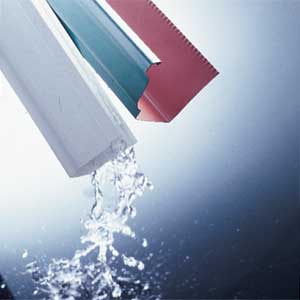 Gutters can be cut with or without seams. If you or your contractor does not use a gutter machine on site, then you will most likely get gutters with seams. This is because it is virtually impossible to ship seamless gutters due to their length. However, seams often lead to leaks. Using a gutter machine on site allows either you or your contractor to cut the gutters to size right there, without having to go anywhere or worry about shipping them anywhere.
If you choose to conquer this project and replace the gutters yourself, then you will have to hope you measured correctly, go to the local home improvement store and have them either order the gutters or cut the gutters they have in stock to the correct size. You will then have to get on a ladder and install them on your home.
Another option is to rent a gutter machine from either the home improvement store or a machine rental company, take it home and after measuring, cut the gutters yourself to the length, style and width of your choosing. While using a gutter machine yourself will allow you the option of seamless gutters, you still have to worry about whether or not you measured correctly and whether or not you will fall off the ladder while you are hanging them.
Another good thing about using a gutter machine is that either you or your contractor can obtain an additional piece that allows you to add gutter art to your gutters. Gutter art is embossed designs that can enhance gutters of any size or style, as long as they are metal. The piece is not expensive and, if you are a contractor, often pays for itself in one or two jobs.
Your standing seam roof panel machine supplier should have these four characteristics.
If you work for a construction company that assembles roofs with roof panels, then you likely know how important the invention of the standing seam roof panel machine was. This machine made it possible for construction companies to produce roof panels at the job site. Gone were the days of having to make an order and waiting for it to ship, a process that could easily hold up an entire job site for days a time. Instead, companies could simply move their standing seam roof panel machine from one job to the next, producing the exact number of roof panels they needed for each job site. In short, these machines have made the process of assembling a metal roof much simpler, quicker and easier.
While initially there were only a handful of companies that produced these machines, today there are many. Thus, it is more important than ever for construction companies in need of standing seam roof panel machines to vet the companies producing them. The former have to make sure that the latter are producing high quality machines that they can count on, machines that won't break down after a few months of use. To make sure that the company you buy your standing seam roof panel machine from is up to standard, you should make sure that they have these four characteristics.
1. Experienced technicians. At the end of the day, a standing seam roof panel machine is a serious piece of equipment. They cost a fair amount of money and perform a pretty nuanced job. They are difficult to create and even more difficult to create well. As such, you'll want to make sure that the company you end up buying one from has experienced technicians, people that truly know what they are doing. The more experience the company has in producing such machines, in general the better choice they are.
2. Dedication to quality. Second, you should make sure that the company you buy your standing seam roof panel machine from is dedicated to quality. You're going to be spending a significant amount of money on the machine, and while it's well worth it, you certainly don't want to have to be repairing it all the time. Make sure the company that produces it is dedicated to producing something that will last.
3. Knowledgeable. This one might be obvious, but you'll want to ensure the company you buy from is knowledgeable about their craft. The more they know the better the equipment they produce.
4. Commitment to you. Look for a company that is committed to helping you find the perfect machine for your needs.
New Tech Machinery, as you likely already know, is one of the few companies that has these four characteristics. Whether you need a standing seam roof panel machine or a gutter machine, they are dedicated to producing the highest quality equipment in the country. Their outstanding reputation among their peers speaks for itself. If you haven't worked with a New Tech Machinery piece of equipment then you really don't know what you're missing out on.
Gutter Machines Have High Demands for Home Owners
In just a short matter of time the gutter machines are going to be able to literally get the entire job done in order for you to be able to better move on. The truth of the matter would then be that you would need to be able to assist the entire society in getting a much better gutter machine going. They are the people who you would want to be able to deal with when you are trying to attract a different population to the issues.
However, you would really need to keep track of those things for your family. In some cases you may be able to notice that there are going to be people who will want to get a hold of the gutter machines that will be able to guide along any type of a project. This will then be the things in your life that will be able to make a lot of the work a lot easier. The thing is that a lot of people are not fully understanding of each and every tiny little thing that you will think about.
The whole idea behind the projects that are taking place all around the United States of America that may or may not be including the gutter art are going to begin to find out about. It could possibly be something that we are going to be able to really think about. There could then be moments in which they will need to be able to attend to the issues that are starting to take place.
A lot of people are actually afraid of being able to get their hands on something when it comes to a roof. The truth of the matter is that they people who are going to actually be using the standing seam roof panel machines will be professionals at this type of work. The work flow that you are actually going to want to be able to refer to will be a little bit different for families that are in different areas of the United States of America.
There will be people in which you are always going to have to take their work for granted for. They will then be the ones who are going to have to reach out to each and every one of their members of the family. It may be the case that they are actually going to have to start to begin a process of elimination. They will be able to tell the difference from one to the other one.
The truth of the matter in any type of a situation here would actually be that these are actually more than likely always going to be the same people that are always looking for the best products to use for their gutter art projects. The thing that they will then be able to inform each and every single human being about is that this is truly their own right to the rest of the world to see.